Have a need for petrol engines to drive various agricultural, marine and construction equipment. Can be used to replace worn out engines on various stationary equipment or to rotate between equipment as required.
Rugged, durable performance with ease of servicing and convenient, standard fitment to various equipment items.
Standard output shaft to match market requirements and existing equipment. Reliable and durable four cycle overhead valve engines with robust construction. Various models specified to suit different applications- dual air filters for agriculture and construction applications and specially adapted boat engine variants for marine use.



Robust and Durable strong construction with proven design and performance for trouble free operation




Cast Iron cylinder sleeve durable and better lubrication for longer engine life

Range of sizes and power levels 9HP Variants match the power to the application for best Performance




Oil Sensor (MP models only)

provides an alarm and stops engine if oil

level is too low prevents engine damage




Dual Air Filter (MP models only)

prevents dust entering the engine

for additional durability




Standard shaft sizes

Either 1" parallel shafts

for easy fit-up to a variety of equipment
---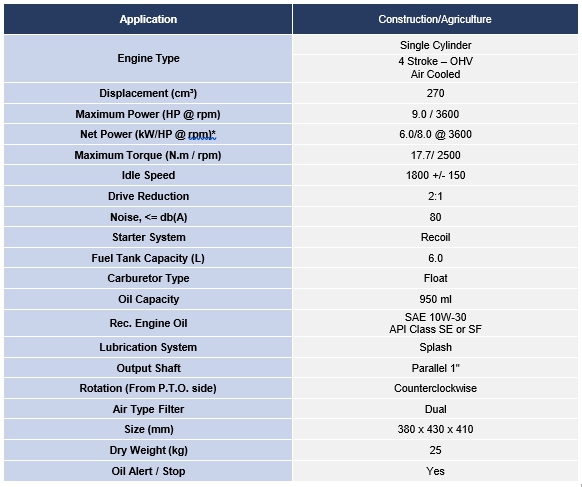 Service Center
Spica Co., Ltd. (owner of TigerBay)

Address: 243/2 Onnuch Rd., Prawet, Bangkok 10250 Thailand
Tel: 02 721 7373
E-mail: info@spica-siam.com