Ideal for taking care of larger lawns, this versatile ride-on lawn mower is efficient all year round. Husqvarna R214 T features a twin cylinder engine and can be fitted with a 94 cm or 103 cm combi cutting deck with two cutting options – BioClip® mulching for lawn fertilization and rear ejection cutting for higher, tougher grass. The rider is easy to operate, clean and maintain thanks to the cutting deck's service position. A wide range of Husqvarna accessories is available.
Adjustable steering wheel
For greater ergonomics and comfort a telescopic steering column lets the steering wheel height to be adjusted.
Hour meter
Helps you having control over service and maintenance intervals.



Front-mounted cutting deck
Front-mounted cutting deck for excellent accessibility into corners and under bushes, park benches etc.



Articulated steering
The unique articulated steering system allows the rear pair of wheels to swing in underneath the machine. The result is superior manoeuvrability with a minimum turning radius at full lock.
Turn key start
Easy to get operating under any wetather conditions. No choking needed, just turn the key and go.
BioClip®
BioClip® (mulching) provides excellent cutting results on frequently cut areas. The grass is cut into fine pieces that quickly decompose and return to the lawn as natural fertiliser.
Easy-access controls
Controls are easy accessible and designed for optimum user comfort.
Engine behind driver
Thanks to the rear-mounted engine, you get better overview of the mowing and less noise and emissions in the driver's area.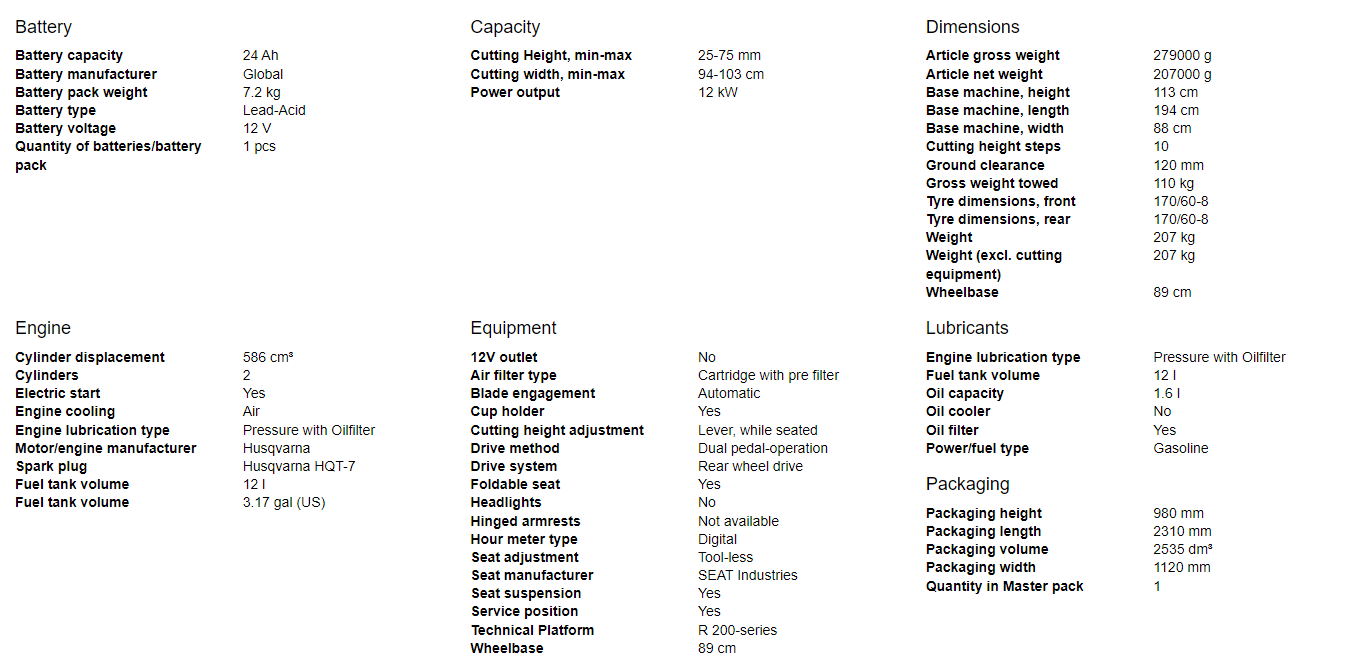 Warranty terms
1. The product has a warranty period for parts and labor for a period of 1 year. The company is happy to provide free repair service for 1 year from the date of purchase.
2. The company will repair or replace spare parts without charge for damaged, damaged or missing parts due to the assembly or production that is not standard from the factory. or damaged faster than usual under normal use and maintenance according to the product manual


What is not covered by the warranty
1. Damage caused by misuse lack of maintenance or use it continuously for too long as specified in the manual
2. List of spare parts that wear according to age include:

2.1 Drive belt system, pulleys, bearings
2.2 Cutting blade, cutting blade drive gear cutter blade set Cutting blade drive belt Cutting blade opening belt
2.3 Rubber wheels, both front and rear
2.4 Air filter, engine oil filter, gasoline filter, engine oil

3. Damage caused by impact or caused by an accident various natural disasters
4. Lack of maintenance according to the manual
5. The warranty does not include the cost of sending goods to service. travel expenses
6. In case of not showing the warranty card or filling in the details in the warranty card incomplete
Products that are out of warranty
In the case of products that have expired the warranty period The company also provides maintenance and spare parts services to customers as before. by a team of technicians from the service center However, if you want to provide on-site service Will be charged according to the actual distance from the company to the job site (round trip - 6 baht per kilometer) and charge labor and spare parts according to the actual change
Attachment: Download Warranty Terms
รถตัดหญ้านั่งขับ, เครื่องตดหญ้านั่งขับ, รถตัดหญ้า husqvarna, รถตัดหญ้า